Investing in renewable energies offers investors numerous high-yield opportunities. They range from investments in solar plants to wind power and wood investments. The products include funds and fixed-interest bonds. International markets also open up opportunities for investors to participate in renewable energy supply.
Solar funds and investments in solar parks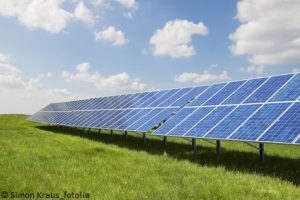 Solar energy offers investors investment opportunities in solar funds or investments in solar parks. This is usually a long-term form of investment.
If you decide to invest in a solar fund, you will become the legal co-owner of a solar park or a large photovoltaic system. This form of participation makes it possible to combine ecological sustainability with a profitable investment. The participation in solar parks can also make economic sense, as it contributes to cheaper production.
With modern solar parks a reliable and responsible energy supply is possible, which can be realised in an increasingly favourable way. The electricity produced in large photovoltaic systems or solar parks is mainly generated around midday. In this phase, on the one hand the electricity demand in the households is highest and on the other hand the electricity prices on the energy exchanges also reach the highest prices on average at midday.
Solar energy funds enable you to invest in the long-term operation of solar systems. You also invest in the project planning of the photovoltaic systems. Germany still offers excellent conditions for investing in solar systems. This is the country with the largest electricity generation from this energy source in Europe. Even though the production of solar cells and solar modules is slowly shifting to Asia, participation in the project planning and operation of the plants in Germany is profitable. The greater part of the value added remains in the regions of the German photovoltaic plants, i.e. in the domestic middle class. In addition to the installation, the ongoing maintenance of these power plants over the coming decades will also contribute to this.
One example of a solar investment opportunity is Wattner SunAsset 8. Wattner is taking over already running and profitable solar parks exclusively in Germany. The investment form is a fixed-interest subordinated loan. The term is 13 years and the investment is possible from 5,000 euros. The fixed interest rate starts at 4.5 percent p.a. (from 2018) and increases annually to up to 5.5 percent p.a. (from 2029). Wattner provided the issuer with EUR 500,000 in equity capital. This means that you as an investor no longer have to worry about project planning, construction or foreign risks.
The HEP Solar Portfolio 1 Global fund, for example, offers you an international investment opportunity in solar energy. The solar fund comprises projects all over the world as well as a global network of experts. The first projects have been realised in the USA, Canada and Japan. The fund has a volume of 30 million euros in equity capital and a planned term of 20 years. With a minimum investment of 20,000 euros (plus 3 percent premium), an average return of around 6 percent can be expected (calculated on the basis of an internal rate of return). Become a co-owner of modern photovoltaic systems and thus help shape the energy revolution.
Participation in wind farms and wind power plants
The investment in wind power is possible via participations in wind farms. Wind power is one of the longest used renewable energy sources in history. While windmills, for example, used to harness the wind, wind farms and wind turbines are now an important part of the energy revolution. Wind power currently accounts for the largest share of electricity generation from renewable energies in Germany.
From the outset, private investors in wind power plants in Europe have also been involved. In this context, the term "Bürgerenergiewende" is of great importance. This includes citizen wind farms, energy cooperatives or closed wind energy funds.
Wind energy participations are internationally possible. In Germany, the Renewable Energy Sources Act (EEG) plays an important role. Comparable regulations or laws exist in some countries worldwide. As a private investor, you can use wind power funds to co-finance new wind power projects and existing plants on foreign markets.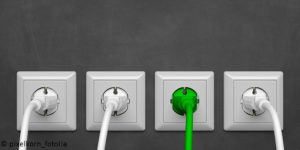 One example of a wind power fund is Ökorenta Erneuerbare Energien 10, which enables the public AIF to participate in a larger portfolio of wind farms and solar parks. The plants benefit from statutory subsidies under the EEG. About 90 percent of the plants are based on wind power. It is an equity fund with a planned term of 11 years. According to the forecast, investors can expect a total payout of 154.5 percent before taxes including repayment of the contribution. The interest rate starts at 3 percent. Participation is possible from 10,000 euros plus 5 percent premium. As a private investor, push ahead with the expansion of wind turbines and profit from attractive returns.
Combined heat and power plants: investment opportunities with combined heat and power generation
Combined heat and power (CHP) enables the generation of electricity and heat through the efficient use of natural gas. Modern combined heat and power (CHP) plants achieve efficiencies of around 90 percent. Combined heat and power (CHP) plants generate heat and electricity locally for direct use on site. This type of power plant can be operated with fossil fuels such as natural gas as well as with biomass. Their significantly more efficient operation compared to conventional power plants without CHP contributes to the energy revolution.
One investment opportunity in this area is the participation in Blockheizkraftwerke Deutschland 4 – Luana Capital. The fourth participation of the CHP experts Luana Capital contributes to supplying certified customers operationally with renewable energies. Luana Capital has already implemented around 70 projects.
Blockheizkraftwerke Deutschland 4 is an entrepreneurial investment with a planned term until the end of 2024. The forecast total distribution is around 151 percent before taxes including repayment of the contribution. With a total volume of 11.67 million euros, the high equity ratio amounts to 8.8 million euros, whereby an increase is possible. You can participate from an investment sum of 10,000 euros, whereby no premium is incurred.
Investments in wood
Wood is also an attractive asset. As a largely inflation-proof investment, wood is suitable for long-term investments. In view of rising population figures worldwide, an equally growing demand for wood is to be expected. With an investment in wood you participate in reforestation projects in the timber industry. In addition to the return on investment and the economic advantages, this also contributes to ecological improvements. Investments in tree plantations and wood help to bind carbon dioxide in the tree trunks during the growth phase. Reforestation relieves pressure on irreplaceable rainforests and other natural forest areas.
Furthermore, wood investments contribute to the creation of new jobs in the agricultural sector. The situation is similar with bioenergy as a form of investment. Here, growing raw materials are cultivated in order to use them later for energy conversion and for electricity and heat production. Responsible companies make sure that the soils used are not in competition with the food industry. With wood and bioenergy plants you become a co-owner of parcels of land, forest or renewable raw materials.
A successfully emitted project is the KiriFarm in Spain. Here, fast-growing Kiri trees are cultivated on plantations in order to contribute to sustainable wood production. As an initiator, WeGrow placed a fund with which you can benefit from the sustainable cultivation of the trees. Within this framework, suitable parcels of land have been created and planted and the care of the growing trees has been secured.
KiriFarm offers you the possibility of an entrepreneurial participation as a private investor. With this you co-finance the ecological project. The planned duration is 10 years. From a minimum investment of 5,000 euros (plus 5 percent premium), you can expect a forecast total distribution of 205 percent before taxes including repayment of the contribution.
Fixed-interest bonds and loans
Sustainably produced tangible assets offer you many fixed-interest investment opportunities. As a private investor, you can co-finance ecological projects with loans and bonds. Bonds include bearer bonds and registered bonds from various reputable companies in the renewable energy sector.
In particular, many medium-sized companies in Europe offer fixed-interest investments such as bonds or profit-sharing rights in order to realise their projects with the help of private investors and independently of banks. These products typically have fixed interest rates and fixed maturities. With these types of investments, you lend your money to the issuers. Unlike participations, you do not receive any co-ownership or voting rights. However, as a lender you acquire a claim to interest payment and repayment of the investment. Become a co-creator of the energy turnaround and rely on fixed interest rates based on renewable energies.