Would you like to invest your capital profitably? A solar park offers you the best opportunity to increase your capital with a high return. Solar.red has an extensive international network at its disposal to realise your construction project as quickly as possible. Our long-standing partners take care of the planning, development and construction of your turnkey solar park.
Solar parks – energy suppliers of a new, modern generation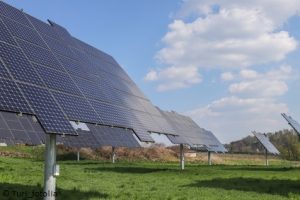 In contrast to solar systems on the roofs of buildings, photovoltaic (PV) systems, also known as solar parks, are constructed differently. They are mounted at ground level on very stable substructures. The photovoltaic modules are aligned at an optimal angle to the sun. In Germany, the Renewable Energy Sources Act (EEG) and nature conservation organisations play a role in solar parks. In addition, specially designed tenders and the usual approval authorities for construction projects are involved. Huge solar parks in Australia, China, India and Russia, for example, are already on the grid or in planning worldwide. One of the world's largest open-air photovoltaic systems already in operation can be found in China, for example. The Longyangxia Dam solar park covers an area of 27 square kilometers. Over four million solar modules provide an electricity capacity of around 850 megawatts. Solar parks are increasingly proving to be an attractive investment opportunity. Thanks to sophisticated, state-of-the-art technology, relatively safe, long-term returns can be achieved at low risk. We offer you our services so that you too can benefit accordingly. Below you will find information on all processes that are carried out for you or for which you receive support.
Turnkey projects start with precise planning.
As part of a so-called EPC (Engineering, Procurement and Construction) program, everything revolves around the planning, procurement and execution of your plant. This includes the exact assessment of the intended location, material procurement and much more. You are always well advised, financially, legally and technically. You will also receive competent support with authorities and approval procedures. You are always on the safe side with regard to various contracts, suppliers and other planning points. Simply trust the solar park professionals who take care of everything. For example, soil surveys, the most accurate shade calculations and electrotechnical planning. Electrical engineers coordinate cable cross-sections, are responsible for module assignment and inverter selection. Rely on the professionals when it comes to photovoltaic open-air systems. Enjoy perfect planning until the successful completion of your system.
Fast completion thanks to best organization
An optimal construction process is guaranteed by ensuring appropriate organization and supervision on site. From casting the foundation to erecting a steel substructure including the connection of drive and control, everything is regulated. This also includes the installation of the modules and the necessary electrical engineering. The complete cabling up to the feed point is also included in the range of services. Plant construction is always carried out in cooperation with regionally selected, highly competent specialist companies. If your solar park is connected to the grid, this should also result in the best possible yields. This is ensured by very special services for you. The next paragraphs will tell you more about exactly what this is.
Special services and competent repair service
Your solar park specialists are also your competent partner after commissioning of the system within the scope of special services or repair work. TÜV-certified service technicians service e.g. modules, support structures or inverters. This also includes inspections in accordance with DGUV V3, i.e. the guidelines of the German statutory accident insurance. They include, for example, insulation resistance, protective conductor and line impedance. In addition, there is an RCD (Residual Current Device). As part of a major annual maintenance, all components of the system are then put to the test.
If unexpected damage should impair the function of your solar park, experienced experts will take care of it. This ensures that the system is repaired in the shortest possible time and is profitable again. High operational reliability and continuous profitability of your plant are thus guaranteed in the long term.
Monitoring program protects against financial losses
By accepting a monitoring offer, you make it possible to monitor the solar park around the clock, all year round. This makes it possible to detect faults and malfunctions in the shortest possible time, usually in less than 15 minutes. This program can optionally be designed according to individual wishes. This also allows you to secure your return well.
Optimisation of the solar park can improve earnings
If you are no longer satisfied with the yield of your system, an optimization idea could help. It is possible to draw up a certified TÜV report on the condition of your plant. You will then receive competent advice as to whether an optimisation process could really be implemented in a promising manner.
Trust in our experience when it comes to solar park investments in Germany or abroad. Our contacts via our excellent network bring you clear advantages.
Here you will find further information on the construction of solar parks.