Transparent solar panels for environmentally friendly electricity and as a design element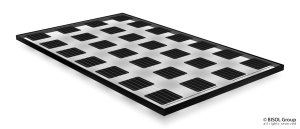 Transparent solar modules are excellent for aesthetic architecture. With the help of these modules an impressive play of shadow and light can be created. Thanks to these modules, it is possible to replace materials used to provide shade. The solar electricity fed into the grid gives you a minimum yield of 20 years.
Transparent solar modules offer some advantages. They benefit from an attractive appearance and provide pleasant shade. In addition, you can avoid sharp light-shadow contrasts by using them and reduce the energy required to cool a room.
Areas of application for transparent solar panels
For transparent solar modules there are different areas of application such as for example:
– Conservatory
– glass roof
– balcony glazing
– facade glazing
– window elements
– sun protection system
– Solar shutters
– Roof window or skylight
– porch
– canopy
– Sliding roof for a motor vehicle
– Shading slats
Individual design options
Transparent solar modules are often manufactured to customer specifications. Various design combinations are possible, such as
– Rounded, square or rectangular solar cells
– Cell spacing and degree of light level according to customer requirements
– optionally thin-film, mono or polycells
– Size of modules up to 4 x 2 meters variably configurable
– various glass thicknesses up to 12 mm
– Colouring according to individual taste possible
Production of transparent solar modules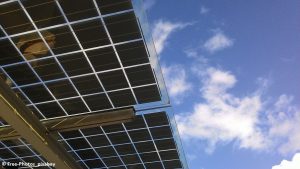 All types of glass are suitable for the production of transparent solar modules. It is possible to use thermal insulation glazing, normal tempered glass or safety glass. Although these glass-glass modules are very stable, they have a very heavy weight. Double glazing is possible. There is another manufacturing option. The solar modules can be embedded in a transparent Tedlar or laminated in PVB and EVA. A combination of both types is also conceivable. In this case, the front is made of glass. The back of the modules is then made of clear Tedlar. In order to produce transparent solar cells, square openings are cut out using laser technology. There is even the option of manufacturing transparent solar modules on a curved surface.
Polycrystalline, monocrystalline and thin-film cells can be used as cell technology. By opting for amorphous silicon, a manufacturer can produce transparent solar modules that are designed like tinted glass. It is no longer possible to tell that these are solar modules. Semi-transparent modules use the so-called nano solar cell, which is based on the electrochemical principle. A specially structured semiconductor, such as titanium dioxide, is located between two glass plates.
Conclusion
Transparent solar modules are ideal for setting special design accents. Various types of glass such as safety glass are used for production. In addition to completely transparent models, semi-transparent solar cells are also available. With regard to cell technology, it is possible to choose between polycrystalline, monocrystalline or thin-film cells. Monocrystalline cells in particular offer optimum performance, while polycrystalline cells are much cheaper. Transparent solar modules can be used in houses or buildings at different locations. In addition to an impressive interplay of light and shade, the advantage is of course that solar power is fed into the grid for around 20 years. Transparent solar modules are available in different versions. It is possible to colour the solar modules. In this way you can achieve the look of tinted glass. It is not recognizable that it is a solar module. In addition, some manufacturers offer the possibility of manufacturing transparent modules according to customer specifications. Thus the solar modules are adapted exactly to for example a roof window, a winter garden or a Veranda.